Welcome To Cowm Leisure
FOR FURTHER INFO PLEASE CALL JOHN ON  07970 101 879
Welcome To 2017 With Cowm Leisure !
As Well As Our General Practice Days We Have Lots Of Events To Look Forward To During 2017. Please Keep An Eye On The Website & Facebook Page For Updates On Up And Coming Events 😎
**SITE CLOSURE NOTICE**
Cowm Leisure  will be closed for Eddys Xtreme Event on February 4th & 5th 2017. This is the 2nd Round of the British Extreme Enduro Championships.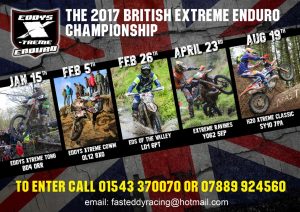 Please Call The Above Numbers To Enter Or With Any Further Enquiries.
On Behalf Of Myself,

John

& All Of The Team Here At Cowm Leisure, We Would Like To Wish All Our Loyal Customers A Happy New Year!! Thank You For All Your Continued Support, We Hope To See Faces, Old And New During 2017

👍🏻

☀️

🎉

🎊

🎁
Please Keep An Eye On Our Facebook Page For Up And Coming Events On Site 🙂
For any more info about our site please contact John on the number at the top of the page, or alternatively join our Facebook page ( https://www.facebook.com/groups/1389844901232449/ ) and post any queries on there. Many Thanks Sam & John 🙂
TRIALS BIKES
Trials Bikes Are Welcome Saturdays & Sundays Except For The Last Sunday Of Every Month & Trials Bikes Are Limited Access On Our Monthly Enduro Days. These Dates Are Advertised On The Website And FaceBook Page.
TRY TRIALS BIKE RIDING
WE CAN NOW OFFER KIDS AN OFF ROAD BIKE EXPERIENCE WE HAVE TRIALS BIKES FROM 50CC TO 125CC FOR FURTHER DETAILS PLEASE CALL JOHN ON 07970 101 879 OR EMAIL john@cowmleisure .com THANKS.
.
Pit Bike Tracks                  
OUR MX TRACK IS SUITABLE FOR TWO STROKE MX BIKES UP TO 100 CC AND FOUR STROKE MX AND PIT BIKES UP TO 160 CC ANY OTHER INFORMATION PLEASE PHONE DIRECT ON 07970 101 879 THANKS.
TRAIL BIKE RIDING HOLIDAYS IN SPAIN CLICK THE BANNER BELOW